Dandruff is characterized as white flakes, which can be very evident in your hair and negatively impact your appearance. Basically, these flakes are dead skin cells from your scalp, and can be accompanied by itching and inflammation. There are no clear reasons behind the formation of dandruff, but it is believed that improper digestion of food can be linked to the condition. While there are medications for serious cases, here are 6 natural foods you can eat to keep dandruff at bay.
Sunflower Seeds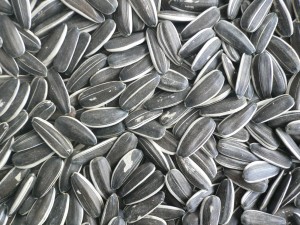 Sunflower seeds are rich in hair healthy nutrients, which also prevent dandruff. These seeds include zinc, which is essential for the production of sebum, which keeps your scalp healthy and prevents it from drying up. It is believed that improper digestion of food might be a cause of dandruff and sunflower seeds have B complex vitamins, which can positively boost your metabolism and help with digestion.
Ginger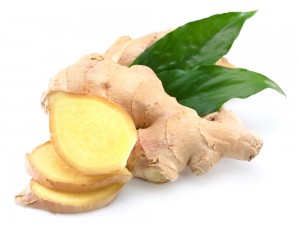 Ginger has long been used to support the digestive system and help the processing of fats and proteins. If your dandruff problem is related to improper digestion of food, ginger can be a top remedy for you. Moreover, ginger also has anti-bacterial and anti-fungal characteristics, which can help other scalp conditions and contribute to your overall health.
Papaya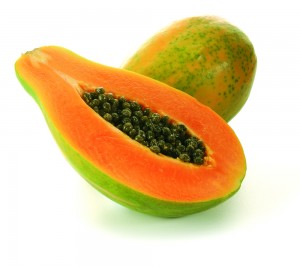 Papayas are excellent in terms of healthy nutrients and contain papain, an enzyme which is instrumental in the digestion of proteins. The green, unripe varieties of papaya have more papain content and can be easily incorporated in salads for a healthy meal. The digestive benefits of eating papaya can lead to reduction in dandruff.
Garlic
Like ginger, garlic has also been used for thousands of years to treat various health problems. It is believed to be linked to cardiovascular health and fighting carcinogens. However, its allicin content is of interest to those suffering from dandruff. Allicin has anti-fungal properties and can effectively treat skin conditions.
Chickpeas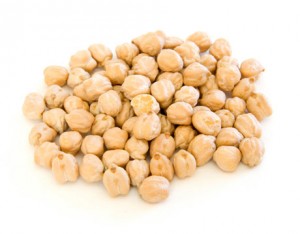 Popularly eaten in the subcontinent and the middle east, chick peas are rich sources of vitamin B6 and zinc, both of which help fight dandruff and improve the condition of your scalp. Apart from including chickpeas in your diet, you can also try topically applying them to your scalp after making a paste.
Apples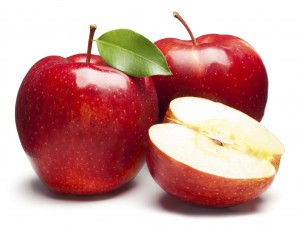 Apples have numerous health benefits and are recommended whether you have dandruff or not. Not only are apples versatile in terms of food combinations but are also good for weight watchers. It is believed that an apple a day can keep your hair free of dandruff.
There are certain foods that can help you keep healthy hair as well. See which foods you should eat and how they effect your hair growth!
Images courtesy:
galaxynut.com
goodmorningcenter.com
yoga24x7.org
talkthatshit.com
fourstarlogistics.com
healthyfoodhouse.com