Cushions create an instant impact in a room. They can not only be used to complement the look of a sofa or a bench, but can also be hung on walls, or as sitting objects near a fireplace. Their uses are plenty and with each differing requirement, the type of fabric and the shape of the pillow changes. The major purpose however remains the same; to provide the impact factor. There are many colours in which the cushion covers can be made, but one colour which, although quite unorthodox, has gained immense popularity over the years is bright yellow.
Yellow colour is all about clarity and uniqueness. It has a lot of energy to it and can really make a room, or part of it, noticeable. There are many shades of yellow and each one has its own significance. While a greenish yellow is considered as a colour of deceit, a bright yellow shade provides a pleasant impact, relieving a person of all the nervousness and anxiety, while protecting him/her of any tardiness and depression.
The Best Designs
Yellow colour is significantly decorative on its own, but there are always certain variations which can be tried to make the cushion cover all the more attractive and eye catching. Some of the most popular designs available online are detailed in this article;
1.       Spotted Yellow
This colour texture has been popular for a while now. There are many variations of bright yellow which can be used to create a pleasant contrast. In addition to that, patterns having bright yellow spots on relatively calmer colours like cream and off white are also trendy.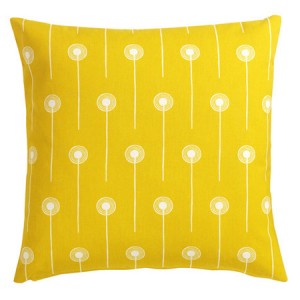 2.       Yellow Embedded Parallelogram
Instead of using spots to complement the outlook of the cushion cover, rectangle shapes can also be used. These shapes can be oriented at different angles, and the background colours can either be darker shades of yellow or colours providing deep contrast, like grey and maroon.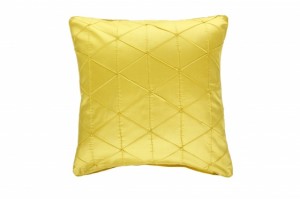 3.       Yellow Ribbon Cushion
Using different textured ribbons over a base yellow pillow is a good way to add impact. Different shades of yellow, with different fabric textures, can be used in this pattern to provide a glossy look.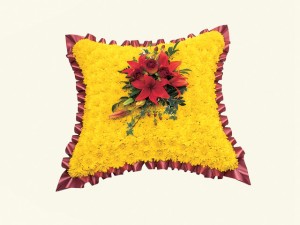 4.       Stripped Yellow
Stripes of different shades of bright yellow can be used in continuation to make the cover attractive. These stripes can be recurring in a theme or can be unique all the way through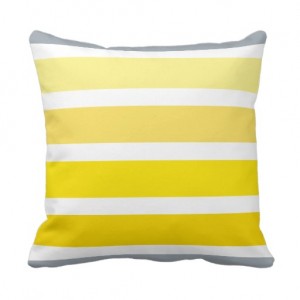 5.       Patterned Yellow cushions
Another popular theme used for making bright yellow cushions is to lay out different patterns, like horse shapes, patch work etc.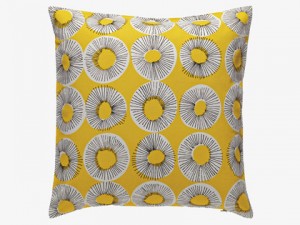 6.       Floral Felt cushions
Floral felts of different bright yellow shades can add a lot of decoration value to the cushion cover. These felts are easily available in the market, and can add a lot of warmness to the overall outlook of the base pillow.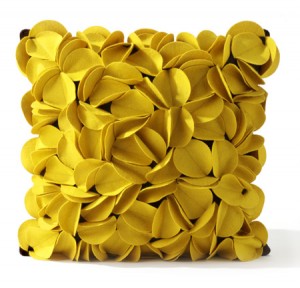 7.       Simple neon yellow covers
Simple neon pillows are strikingly beautiful and can uplift the mood of the room. While using neon colour though, there should be many contrasting features in the room to mellow down its brightness.